Sunday, March 26, 2006, Houston, Texas
Buglisi/Foreman Dance is a small modern dance company with big ambitions, gorgeous production values, and a deep heart. Known for their lyrical and highly theatrical work, Buglisi Formean Dance is proof that modern dance is continuing its astonishing tradition. "Dance sends a tremendous energy into the world," says Jacqulyn Buglisi, the Artistic Director. She should know; she brings decades of dancing with several dance legends, most notably, Martha Graham.
Buglisi /Foreman Dance are not strangers to Houston audiences. The company appeared in Dance Salad in 2001-2004 and several of the members performed in the Graham company during their Houston performances. Buglisi also has family connections here.

Jacqulyn Buglisi, Donlin Foreman, Terese Capucilli and Christine Dakin, all leading dancers the Graham company, founded Buglisi Foreman Dance in 1994. "We were all had a common philosophy," says Buglisi. "We felt so deeply about our commitment to the artform."

Since then, the company has amassed a large repertoire of works that not only embrace the Graham cannon, but move it forward. "I very much continue the basic elements of Graham's legacy," says Buglisi. "I have also furthered the technique. I use tension, release, and opposition to illuminate the dramatic moment. I also use a heightened theatricality like Graham. I like to bring all the elements of staging, the lighting, costumes and sets together."

Buglisi graciously acknowledges Graham's tremendous influence, but was destined for a path of her own making. "Martha was my mentor," she says. "I danced with other companies but my destiny was to work with her."

Buglisi has selected a quartet of works to demonstrate the enormous range of their repertoire for the Houston show. Sand is part of a trilogy of works concerning the environment. Venezuelan artist Jacobo Borges created 26 panels that literally drape the stage in a desert world. He is known for his environmental landscape painting. Buglisi traveled to the cloud forest while creating the work and spent considerable time visiting the great deserts. "You never forget those experiences." Sand was recently presented at the Baryshnikov Arts Center in NYC with a live performance of the Philip Glass String Quartet.

Against All Odds, a moving exploration of Sarah Bernhardt's exotic life, was created especially for Terese Capucilli. "It takes a great dance actress to do a work like that," says Buglisi. The work entails Bernhardt playing many different characters from Joan of Arc to Napoleon. Capucilli, one of the most renowned Graham dancers of her time, is known for her captivating rendering of Bernhardt colorful life.

Next on the program is Requiem, a work that started out being an exploration of the work of baroque painter Artemisia Gentileschi Buglisi was working on the piece in late August shortly before 9/11. Afterwards she visited the site at ground zero and the work grew to mean something else. "For me it was a sacred ground. It was filled with white dust, the white dust and these huge flood lights over this cavern, like a cave; it was like an open heart," she says. "It was like a huge cathedral. That experience fell right into the work." Audiences have found the work to be a healing experience. "It's a big prayer to peace."

Costuming is crucial in all of Buglisi's works. The women in Requiem are wrapped in 10 yards of silk. She works with the costume ideas right from the start. "The fabric becomes an extension of your inner landscape," says Buglisi. She credits her know-how with fabric from her time dancing the work of Ruth St. Dennis and Ted Shawn while with the Trisler Danscompany.

The closer, Donlin Foreman's Mean Ole' World, shows off the company's versatility in an uplifting piece set to an original score by Lisa DeSpain. This very serious dance company finally lets their hair down for some jitterbugging fun in this playful piece. "The program starts with something stylized and ends with a piece were we are able to burst out," says Buglisi. "We take you through the whole spectrum of humanity."

S.P.A. presents Buglisi/Foreman Dance on Saturday, April 8 at 8 p.m. in Worthan Center's Cullen Theater. Call 713-227-4SPA or visit http://www.spahouston.org/ .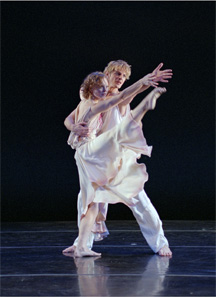 Buglisi Foreman Dance, © Kristin Lodoen

Buglisi Foreman Dance holds a special place in the ecology of modern dance. All four of the founders, Jacqulyn Buglisi, Donlin Foreman, Terese Capucilli and Christine Dakin, were Martha Graham principals before striking out on their own. Their mission is two-fold: to honor a tradition and move it forward. This gem of a modern dance company manages to work with reverence toward tradition without imitation. Their roots are clear and visible without being a burden. Graham would be proud. Sand, Buglisi's homage to the desert, placed three couples alongside Venezuelan artist Jacobo Borges's striking set and Phillip Glass's stunning score. Sand recalled her mentor the most of the four pieces on the program. Graham legend, Capucilli rendered a spellbinding performance as Sarah Bernhardt in another Buglisi work, Against All Odds. Capucilli captured Berhardt's larger-than-life eccentricities with her grand gestures and regal carriage. Even her bows radiated a vintage melodrama and perhaps a bit of welcome nuttiness. Donlin Foreman's Mean Ole' World caught the company in an upbeat mood and showed off the company's versatility in this slinky romp set to Lisa DeSpain's smooth jazz score. Buglisi's Requiem, the centerpiece of the evening, proved a feast for the eyes and soul. Set to Faure's haunting music, the piece conjured equal parts peace and prayer. Five women wrapped in jeweled-toned golds and crimsons looked like they were emerging from a Caravaggio painting. The entire work has an Old Masters feel, rich and opulent, yet the tone was distinctly sorrowful. Requiem began with five mounds of colored silk that gradually took shape into elegant seated women. Clifton Taylor's lighting design bathed the ballet in a mystical smoky glow, which allowed the women to emerge out of a velvety black. Billowing fabric amplified Buglisi's sweeping, but weighted, gestures. Buglisi's poignant dance speaks to the luminous nature of sorrow by transcending sadness through a rarified beauty. The troupe delivered a polished performance throughout. Helen Hansen's generous and radiant performance stood out. —
Nancy Wozny



Now at the height of its power, the Buglisi Foreman Dance Company, under the artistic direction of Jacqulyn Buglisi, gave its New Work Project Series #3 program at The Ailey Citigroup Theater, on May 1, 2006.
This group of young artists continues to grow in technique, power, projection and insight. As a modern dance company, it continues in the tradition of Graham by choosing relevant subjects that require passion, or humor, pathos or an irreverent glance. Buglisi is the master of her choices, propelled by the obvious commitment and talent of her dancers, and resulting in meticulous presentations, stunning costumes and interesting music commissions.
This program opened with what has become her moving signature piece, "Requiem" (2002), a tribute to lost lives. Five mourning women, sitting, and later standing on blocks, in long, gorgeous costumes that drape, billow or embrace the dancers are in the colors of 17th century Italian paintings. Buglisi worked with costumer A. Christina Giannini and painter Debora Maché to form this arresting opening portrait. The music is Gabriel Fauré's "Requiem."
A touching "Sospiri" (1989) was performed by Virginie Victoire Mécène and Kevin Predmore, based on an 1848 tragedy in Argentina concerning Camila O'Gorman and her lover, Jesuit priest, Ladislav Gutierrez, who were hunted down and shot for their illicit love. Elgar's piece of the same title was the collaborating piece. Mécène continues to grow in artistry from her early performances in the B/F group in addition to her work in the Martha Graham Contemporary Dance Company….wherever they may be.
The "new work" was performed by composer Daniel Bernard Roumain and danced by the company. Developed during the company's 2006 Creative Residency at Kaatsbaan International Dance Center, it is energetic. The after-intermission work, another Buglisi masterwork, "Against all Odds" (1998) was performed as a solo by Terese Capucilli, also a former Graham dancer. Once seen, this tribute remains in the mind's eye. It has been meticulously researched and powerfully articulated to the period of Bernhardt (1844-1923) in look, gesture and movement. The actual voice of the great actress is heard and almost seems to emanate from Capucilli herself. Rachmaninoff's Piano Concerto #1, is the companion to the turbulence.
What finale could close this program? "Sand" (2001), with its sensational lifts and sound effects carries this reverential message about the elements, as it provides the entire cast involvement in this passionate premise to the 4th and 5th movements of Phillip Glass' String Quartet #5. The cast consists of Helen Hanson (a Meg Ryan look-alike), Jason Jordan, Marie Zvosec, Junichi Fukuda, Christina Marcus and Juan-Antonio Rodriguez. Jeanene Winston, Kyle Coffman, along with Lauren Sambataro are also strong members of the cast. For tour information, contact:
212-719-3301. If anyone has a $5M grant handy, this is the company that deserves it.